Uncategorized
February 22nd, 2018
The day Zato flew free, I asked him to please send me a sign so I would know he was ok.  We live on a mountain, which is often covered in fog during bad weather.  Sometimes we get a little bit of morning fog, but not much.
It was raining the day he left, and when I got up Tuesday morning I was so sad and upset.  I walked out on the porch and saw the rays of sunlight coming through like never before.  I think my boy decided to send me a bit of light from the Bridge to try and ease my pain.  This picture does not do justice to what I saw, but I have never seen anything like it during the years we've lived here.
Thank you, baby.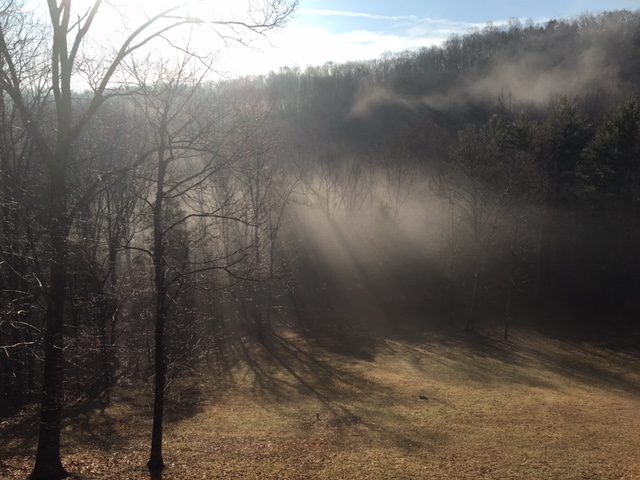 3 Responses to "Zato sends us a sign"
Michelle Says:
February 23rd, 2018 at 12:16 am

They have ways of letting us know. Beautiful. Keep watching for more signs

hugs
Michelle & Angel Sassy

benny55 Says:
February 23rd, 2018 at 5:29 am

Oh gosh! That IS beautiful and it IS easy to see Zato's lovely light shining through the fog. Very poignant.

It doesn't surprise me at all that Zato's bright light is so brilliant and so eternal that he used this waynif connecting with you. He knew you'd figure it out!

I have a feeling this is the first of many unique ways he'll connect. And this is very unique!!

Thanks for sharing this with us.' We're still right here by your side. I hope you know that!

Surrounding you with Zato's eternal light,

Sally and Alumni Happy Hannah and Merry Myrtle and Frankie too!

PS. I saw where you lpgged kn and Zaro's banner showed up! SIGNS, SIGNS, EVERYWHERE A SIGN!

linda8115 Says:
February 23rd, 2018 at 2:24 pm

Somehow I just knew Zato would send you a sign! The bond you share with that special boy is unbreakable even as it reaches to the heavens. Well done Zato….we'll done indeed!
Leave a Reply
You must be logged in to post a comment.