Uncategorized
August 3rd, 2017
Life has returned to normal.  No constant vet visits, or watching him limp, or trying to assess his pain level.  For the first time in almost a year, I'm at ease.  A peaceful calm has descended upon me.  I don't know how long it will last.  But I have wrapped my arms around it and am holding on tight.
We go for short walks a lot. We watch the deer.  We sit on the porch and he sniffs the breeze.   We take little trips to interesting places. When I'm lying on the sofa watching tv, he hops up and gets behind my legs and rests his head on me like he used to.  He bounces up and down like a pogo stick when he wants a treat.  He doesn't try to get on the bed by himself anymore, but if we don't pick him up fast enough, he makes his little grizzle noises.  We have our routine of supplements and remedies and medications down pat.
Zato had a therapy consultation last week.  I really liked them and we will go on a regular basis.  We're so grateful that Zato is a recipient of the Maggie Moo Fund!  Here is the link to his rehab visit.   He was definitely  styling in his new Tripawds shirt.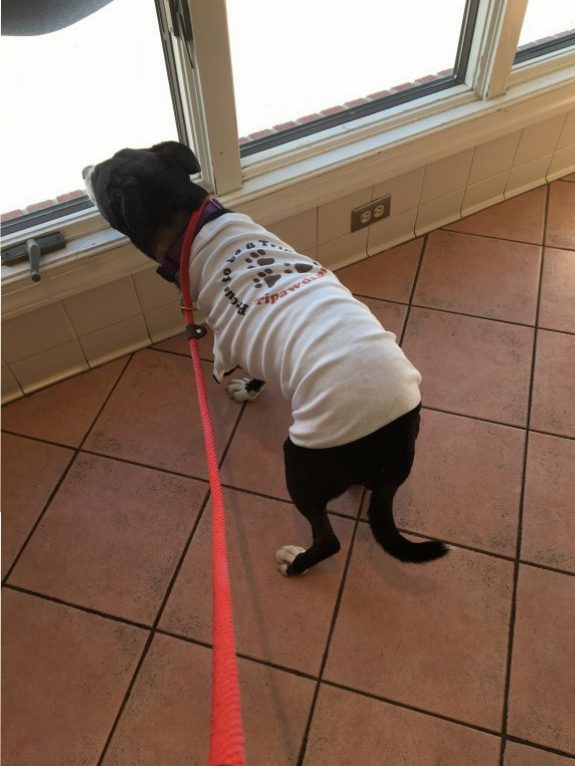 He was so excited to be going somewhere that he got away from me before I could get his shirt all the way on.   I kept saying, "Easy!" because I worried he'd strain something!
https://www.youtube.com/watch?v=JEOk6t4B0-0&feature=youtu.be
I know the statistics and I have no idea what is going on inside of him, but on the outside, he's happy and playful and whole.  That's good enough for us, as long as it lasts.  Here's a picture of him on this beautiful afternoon, helping us work on our deck.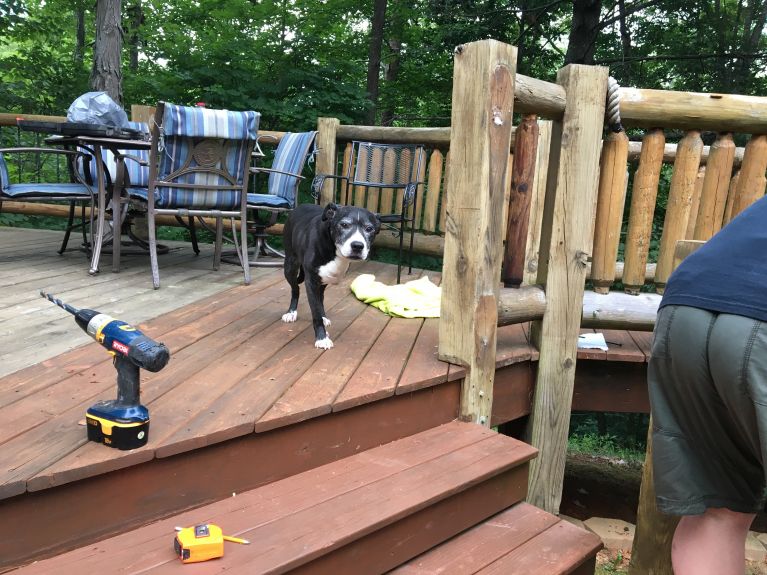 7 Responses to "Life Returns"
Leave a Reply
You must be logged in to post a comment.