Uncategorized
June 27th, 2017
The surgeon called bright and early this morning to say that Zato was doing great and I could pick him up today!  They wanted to keep him a few more hours to let some more of the sedation wear off, which was fine with me since we're 150 miles away anyway.  So we got in the car and went to get that sweet boy (thanks, Mom, for your love and support during all of this!).
The LVT gave us his instructions and an antibiotic to take in addition to his Carprofen & Gabapentin.  He needs cold compresses for fifteen minutes twice a day for 5 days.   He has some fluid in there but it's not draining,  just a little puffy.  She said he had been doing great and wagging his tail, and that she also has a tripawd, as the result of an accident.  She also said that while he hadn't eaten the food I left for him yesterday, he had pooped and had already mastered balancing himself!
Then she brought my boy in.  He just hopped right in, wagging his tail!  He has a bandage over the incision, so I haven't seen it yet. We got in the car and he slept on the way home.  I called Richard as soon as we started back.  He is working out of town and was waiting to hear about our boy!  I sent him a picture :).  When we got home, I lifted him out and he had a good long pee. I AM impressed with his balance.  He would have gone up the porch stairs if I'd let him!  I picked him up, set him down in front of the door, and  he went in, hopped up on the couch before I could get to him, and started licking his paw.  Now he's snoring on the couch beside me.  I know he's uncomfortable and still doped up to a degree, but I swear the look I'm seeing on his face is RELIEF.
I think I can sleep tonight.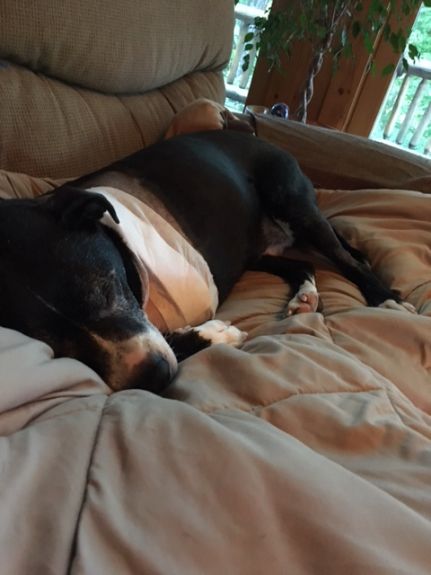 4 Responses to "We're Home!"
Leave a Reply
You must be logged in to post a comment.